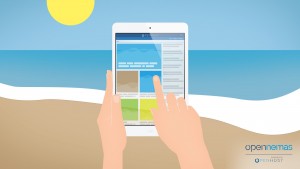 In the first 6 months of 2016 we have decided to analyze monetization advertising services for newspapers and publishers. After many tests we have selected the 5 that we really think make the difference. Please find below our list of recommended services with their PROs and CONs.
Many newspapers start for passion, they start small and they need easy access to monetization tools. Therefore we tested with a newly created publication, with just few articles and a small audience and we tested many advertising options for publishers.
For newspapers with more than 50.000 pageviews per month there are other tools that we thinks would need to be taken into consideration. Please do not hesitate to contact us if you need information about Adnetworks for publications with over 50.000 pv/month.
We created an Opennemas newspaper with our BASIC Theme (FREE), activate Ads Module (35€/month) and we signed up for many online advertising solutions for Publishers.
We think that the 5 we chose for this article are all equally reliable and offer different and easy ways to monetize with your newspaper.
You can try them all and choose the one that works better for you or you can contact us and ask fore more information if you would like to know more before signing up.
We are always happy to help! Our customers success is our success!
Display Ad Networks for Web Publishers (=Banners):
AdSense

PROs: Great AdNetwork, great platform, great reporting options. It is very easy to use and best value revenue is almost guaranteed.
CONs: There is a limitation of 3 ads positions per page.

iKreate

PROs: Really nice publisher ad format called iKarrusel and very helpful support team. Many AdNetworks available and easy to use report platform.
CONs: Reporting tool is a bit limited, report iKarrusel is provided by iKreate team upon request.
In-line Text Ad Networks for Publishers (=keywords hyperlinks):
Infolinks

PROs: Really nice platform, CPM monetization, easy to manage features that include not only text hyperlinks but also infold, intag, inframe and inscreen. They have a very easy sign up and very helpful support team.
CONs: Before signing up it is better to already have content created as there is an approval process, before adding keywords.

Brandcrumb

PROs: Easy sign up process and very good brands campaigns. CPC monetization.
CONs: No revenue information in the dashboard.
Mobile Ad Networks for Publishers:
Iadbox

PROs: Very clean and light option especially designed for mobile devices. It gives user the opportunity to choose when to check out offers and promotions.
CONs: No revenue information in the dashboard.
Create your newspaper with Opennemas and start monetizing with the Ads Module!