The ultimate technology to accelerate the delivery of your news is now available to all Opennemas newspapers.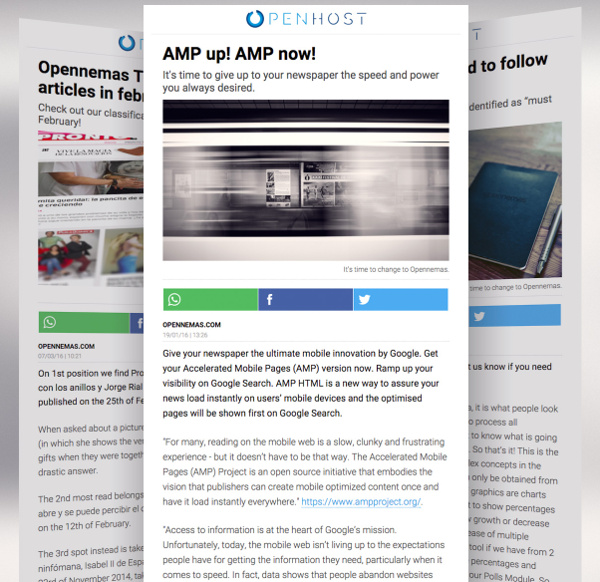 More than 80% of news are read on mobile and tablets and it is vital that the reader has access to the best content available for his/her endpoint.
AMP (Accelerated Mobile Pages) is the latest innovation by Google for publishers to improve content performance on mobile devices.
By applying the AMP technology to your news you will have a mobile optimized page that comes first in Google search results and that guarantees that your readers have a seamless experience with your newspaper.
We have implemented this technology to our platform and all our newspaper can add the "AMP add-on" to their articles so that all HTML pages will be translated and served as Accelerated Mobile Pages.
Sign up in Opennemas, create your newspaper for FREE and find our "AMP Add-On" in your "Themes" section of the Admin Panel: www.opennemas.com/signup.
Many of our customers have asked us about Pros and Cons of this new technology, please find our
Top 5 Advantages and Disadvantages list below.
Advantages
AMP news come first in Google search results.
Page load time on mobile devices dramatically improves.
Statistics such as Google Analytics and Piwik are available for Accelarated Mobile Pages.
Banners 300x are working on accelerated pages.
A link to the "full version" of the web will be available on all pages.
Disadvantages
Only selected ad networks are compatible with AMP for the moment (for full list refer to https://www.ampproject.org/docs/reference/amp-ad.html).
Many widgets will not be available.
AMP is currently only applicable to articles (inner pages).
If you do not have HTML version of your content you cannot use AMP.
The use of javascripts is reduced to the minimum.
For more information please also refer to Google official blog post:
Please do not hesitate to contact us if you have any questions [email protected]